RESTORATION OF THE ISAAC DANCY FAMILY CEMETERY
BEGINNING IN APRIL 2002, A PROJECT TO RESTORE THE ISAAC DANCY CEMETERY WAS STARTED.
A CHAIN LINK FENCE WAS INSTALLED TO PROTECT THE GRAVE SITES FROM FURTHER DAMAGE
BY CATTLE THAT GRAZE IN THE FIELD WHERE THE CEMETERY IS LOCATED. IN ADDITION, THE
STONES WILL BE RESET AND THE CEMETERY CLEANED OF WEEDS AND OTHER DEBRIS.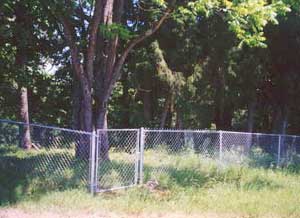 Gate to Isaac Dancy Family Cemetery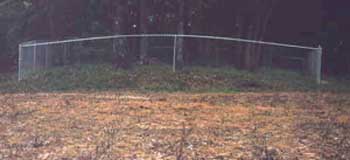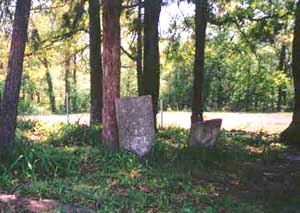 Fence Section ~ Isaac Dancy Family Cemetery Grave Markers
CONTRIBUTORS TO CEMETERY RESTORATION
Mary Kay Dancy Smith and Kenneth Smith
Purchase and installation of chain link fence
Norma Chitwood
Helping with the fence project
Joey Moore
Helping with the project and vegetation cleanup
Herbert Giles
Helping with the fence project
Special Thanks to Mr. & Mrs. Herbert Martin
For permission to install fence