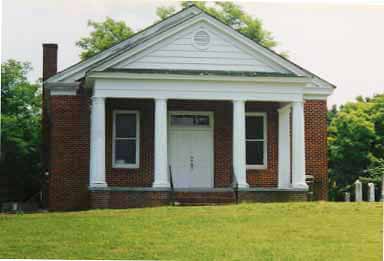 THE DANCYVILLE MIRACLE TEMPLE - COGIC CHURCH
Our apologies, we do not have information regarding this Congregation.
We will, however, be happy to post information if someone will provide.
HISTORY OF THE CHURCH BUILDING
In the year 1853, immigrants to the Dancyville Community, petitioned the Presbytery, to establish a church in Dancyville. The petition was approved and the construction for the building was started the following year. In addition to the charter members of the Dancyville Presbyterian Church, many others, interested in the church, donated to the construction costs.
S. Walter Edwards, Whiteville, Tennessee, who died in 1937, bequeathed funds to remodel the church. Mr. Edwards was christened in the church in 1868 and became a communicant there in 1882. The remodeling project began in 1939.
In remodeling, the perfectly preserved original building was left intact, with brick veneer on the outside and modern paneling for the interior walls. The Plan also included stained glass windows, a columned porch and new interior decorations throughout.
When declining membership would no longer support this church, the building was sold to the Dancyville Miracle Temple - COGIC Church.