Rev. Durwood Worley Remembers
Dancyville Pastoral Days
__________________________________________________
The following e-mail was received by MARY KAY DANCY SMITH and
DIANNE CRAWFORD in reply to inquiries they had made to REV. WORLEY.
.
Hello Mary Kay,

How are you? My wife Elizabeth and I are surviving. I am still an active United Methodist pastor at age 67 now. We are living in Camden where I am pastor of the Liberty and Post Oak Charge.

I received an e-mail from Dianne Crawford about 2 weeks ago and she had forwarded an email she had received from you inquiring about me being pastor twice in Dancyville. That is correct. Approximately 1969 I was called to be pastor at the Dancyville Assembly of God. I was working at the Milan Army Ammunition Plant at the time. They had no parsonage, so I moved into one of Herbert Martin's rental houses. Twenty years later, I was appointed to the Stanton-Dancyville-Springhill United Methodist Charge where I was pastor for four years. I was ordained in the Assemblies of God in 1976, and transferred into the United Methodist Church as an ordained preacher in 1984.

Ironically, I was pastor to some of the same people at Dancyville United Methodist Church that I had also been pastor to in the Dancyville Assembly of God twenty years earlier. If I remember correctly it was James and Pearly Mae Duncan, and also some of the Tom Ferrell family.

Something else of interest is that my father, the late Reverend E. C. Worley, Sr. was pastor of the Dancyville Assembly of God in 1953-1954. My oldest brother, Reverend Kenneth L. Worley also was pastor of the Dancyville Assembly of God a few years later

_________

The old Assembly of God Church was next to Miss
Dorothy Moore and directly across the road from Crawford's store. After the new Assembly of God was built, the old church was partitioned into a
dwelling house and my brother and his family lived in it while he was pastor of the Assembly of God at Dancyville.

I don't think the old church was two stories, but it was built extremely
high off the ground. I remember those high steps at the front.

My dad was a strict displinarian and I dare never act up in church or it meant a trip to behind the smokehouse if I ever did. One night I was sitting on the old plank pew near the back. A wasp dive bombed down on me and went down inside the back of my shirt. At that point the wasp had not stung me but I just knew it would. I had the brilliant idea of smashing him first. I leaned forward, gritted my teeth and went back on the wasp. Needless to say, the wasp stung me multiple times. My brother Kenneth who was sitting on the pew behind me, grabbed my arm and pulled me out the door onto the porch. He yanked up by shirt to release the angry injured wasp. He had witnessed the entire scene. He asked me, "What in the world did you mean by doing that?"

My reply was, "I was afraid daddy would whip me if I caused a scene."

I feared the wrath of my dad, more than the wrath of a wasp. huh.


Grace & peace,
Durwood Worley

"Call to Me, and I will answer you, and show you great and mighty things, which you do not know" (Jeremiah 33:3, NKJV)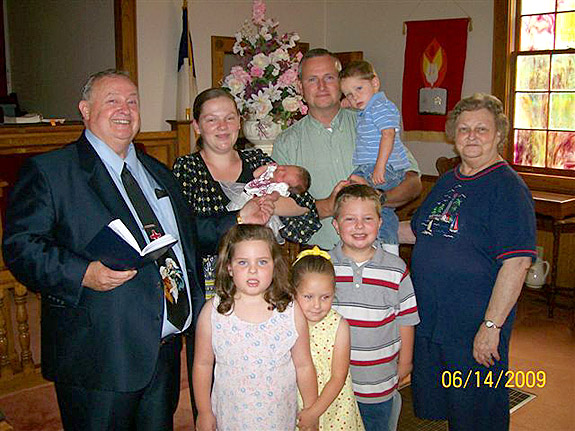 In the picture after church between my wife Elizabeth and me

,

were my youngest son and his wife with the

ir

five children ranging from age 7 years to

one

month.
Durwood Worley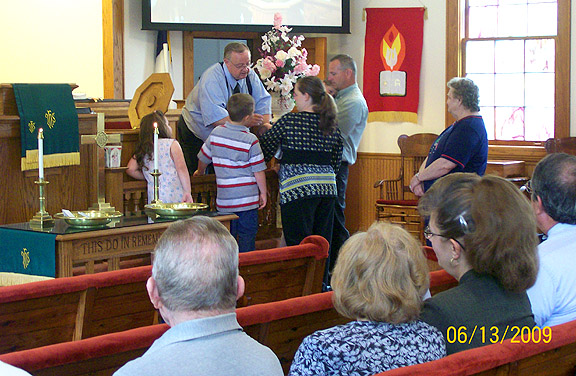 This past June, I was privileged to baptize my two youngest grandchildren at Liberty UMC just north of Camden city limits.
Durwood Worley
__________________________________________________
BACK TO DANCYVILLE REMEMBERED INDEX
BACK TO DANCYVILLE ASSEMBLY OF GOD CHURCH HISTORY