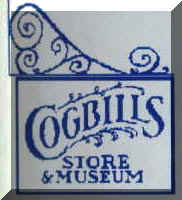 14840 LaGrange Road, LaGrange, Tennessee 38046
If you visit the area, in or near Fayette County, you must visit historic LaGrange and Cogbill's Store and Museum.
LaGrange, Tennessee, complete with antebellum homes, old businesses and a lot of Civil War history, including
occupation by either Union or Confederate troops for most of the war period. For a full description of LaGrange visit the community site at www.lagrangetn.com This is a great site, nice to look at and describes the town, it's history and plans for the future.
COGBILL'S STORE & MUSEUM
Almost two years ago (December 13, 1998) a one hundred year old landmark of LaGrange burned to the ground. Originally opened sometime after the Civil War, by William Peter Lipscomb, a Cogbill ancestor, the family closed it in the 1960's. Almost 30 years later, Lucy Cogbill, re-opened and operated the store, founded by her great-great- grandfather, until the fire.
In late 2000, the 'new' Cogbill Store opened and is fully operational.
The outside structure maintains the 1800's style. Inside, beams from the old store are used as support, in an open
room construction. Part of an outside wall, from the old store, serves as a partition for the kitchen at the rear of the room and a fire scorched counter, salvaged from the fire, is used in the center of the room. I didn't have the feeling of being in a new store, the old atmosphere seems to be maintained. Proves again, people, rather than bricks and mortar, make history.
A whole array of gifts and crafts are available for purchase. Jams, molasses and other goodies also abound. While I am not sure of serving hours there is a kitchen and tables for diners. If you are in Southwest Tennessee make Cogbill's one of your stops, just 50 miles east of Memphis on State Road 57, at LaGrange Road.
And Lucy wears another hat. She is in her second term as Mayor of LaGrange. To see her Mayoral Profile, and what she would like to see as the future of the community, go to this LaGrange Site Page: Mayor's Profile
---
WHAT'S THAT YOU SAY?, Why is this Fayette County town and store on the Dancyville Haywood County Web Site? Well...there are a couple of connections. One is LOUISE ALLEN DANCY COGBILL, daughter of Dancyville's Isaac Bradley and Maggie Ethelene 'Lena" Hughes Dancy. Aunt Allen married Charles Lipscomb Cogbill, who continued the family mercantile business in LaGrange. Louise Allen and Charles Lipscomb were the grandparents of Lucy Cogbill. In addition our AUNT OLA (VIOLA KATE HUGHES BOSWELL) taught school for many years in LaGrange.
BACK TO HISTORICAL DANCYVILLE INDEX
POSTED DECEMBER 3, 2000