ROBERT E. (BUTCH) CLARK, JR.
OBITUARY

Chickasaw Electric Cooperative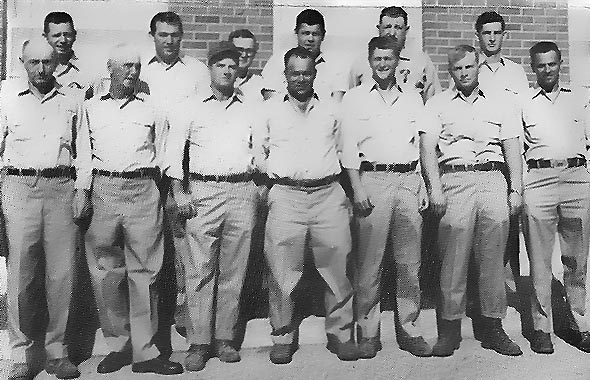 All decked out in new uniforms, from left to right, are: front row: Les Flanagan, James Jordan, Fread Treadway, Arthur W. Reeves, Henry Diffee, BUTCH CLARK and Floyd Henry,
back row: Max Burch, Bobby Doyle, Ronnie Dowdy, Rueben Kennon, Floyd Neill and Thomas Tapp. These 'fellas' keep your electricity flowing.
July 1970.
Lineman Fatally Shocked Friday
December 27, 1972
Robert (Butch) Clark, Jr., 27-year-old Dancyville man, was fatally shocked last Friday while working with Chickasaw Electric Cooperative where he had been employed for eight years.
C.T. McNamee, manager, said the tragedy occurred in Piperton community where employees were running service to a new residence. Clark was working from a bucket truck and accidentally came in contact with a live 7200-volt wire.
Services were held Sunday afternoon at Brownsville Funeral Home with burial in Dancyville cemetery.
He is survived by his wife, Mrs. Joy Osborne Clark, and his parents, Mr. and Mrs. Robert E. Clark of Dancyville.