Reprinted from the Brownsville States*Graphic, June 8, 2001 - Used by permission¹
MARY ELIZA ALLCOCK NEWSOM
OBITUARY
MAY 17, 2001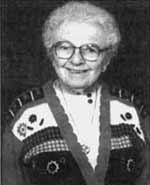 Mrs. Mary Eliza Allcock Newsom, 95, of Brownsville, died Thursday, May 17th at Applingwood Health Care Center. She was the widow of James Thomas Newsom.
A native of Graves County, Kentucky, Mrs. Newsom was a graduate of Murray State Teachers College and Western Kentucky Teachers College. She was a 42 year elementary school teacher and librarian with experience in Kentucky and Tennessee. She taught in Dancyville, Central Elementary and Anderson Grammar schools in Haywood County.
She was a member of Delta Kappa, the American Cancer Society Board, The Retired Teachers Association and the Keen Age Choir of Brownsville Baptist Church and a member of Harmony Baptist Church. Her hobby was gardening.
Mrs. Newsom was the daughter of the late Oliver Duran Allcock and Nellie Washington Cunningham. She was preceded in death by five siblings and leaves a sister, Flora Nellie Allcock Shaffer of Memphis, Tennessee and 10 nieces and nephews: Mary Caroline Maczuk of Melber, Kentucky, James C. Allcock of Farmville, Virginia, Shelby O. Allcock of Greenfield, Wisconsin, Fred D. Allcock of Bowling Green, Kentucky, Nellie Sue Clayton Walden of Paducah, Kentucky, Martha Ann Allcock Conwill of Franklin, Tennessee, Alma Jean Allcock Segree of Campbellsville, Kentucky, John M. Allcock of Russellville, Kentucky, Stephen Allcott of Murray, Kentucky and Lanelle Shaffer Ferguson of Cordova, Tennessee.
Funeral services for Mrs. Newsom were conducted in the Brownsville Funeral Home Chapel Saturday, May 19, at 10 a.m. with Rev. Grover Westover and Rev. Adrian Knipper officiating.Interment followed in Brownsville Memorial Gardens.
Memorial donations may be made to Harmony Baptist Church.
---
¹The preceding article and photo, reprinted by permission, and the Brownsville States*Graphic retains full rights © 2001
We truly appreciate permission, granted by C.T. Smith, to reprint this States*Graphic obituary.