ALLEN DANCY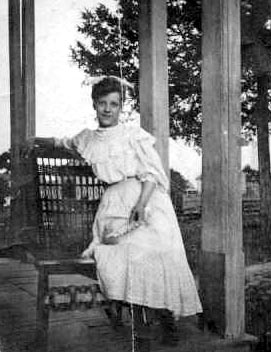 From the Album of Allen and Alice Cogbill
Louise Allen Dancy Cogbill (1891-1969) New Party Dress - 16 yrs old - (1906).
Material - white mull with green dots, present from Grandmama (Mary Priscilla Gilliam) Hughes
and made by Aunt E(?) Hughes. Taken at Dancy Home Place, Dancyville. Allen was the daughter of
Isaac Bradley and Lena Hughes Dancy and the wife of Charles Lipscomb Cogbill.
BACK TO COGBILL ALBUM INDEX

BACK TO PHOTO INDEX

BACK TO HOME PAGE
POSTED DECEMBER 2, 2000