ALLEN, A NEW PARTY DRESS and BROTHER HUCK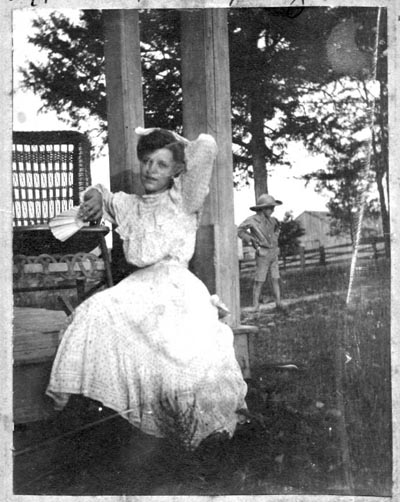 From the Album of Allen and Alice Cogbill
Louise Allen Dancy Cogbill (1891-1969) Taken 1916 -
Age 16 yrs. In the background - Kerr Malone 'Huck' Dancy (1899-1964)
8 yrs. old, brother of Louise Allen. Front porch, Dancy Home Place, Dancyville.
Our Uncle Malone was called 'Huck'. I have no idea where the nickname came from,
however, based on his stance and dress, in this picture, it could have been from his appearance,
as a youngster. A Huck Finn 'look', if I ever saw one.
BACK TO COGBILL ALBUM INDEX

BACK TO PHOTO INDEX

BACK TO HOME PAGE
POSTED DECEMBER 2, 2000