AUNT OLA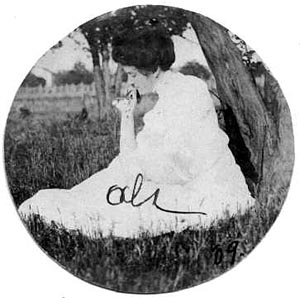 From the Album of Allen and Alice Cogbill

Viola Kate Hughes Boswell (1872 - ) Daughter of Thomas Newton and Mary Priscilla Gilliam Hughes,
sister of Lena Hughes Dancy and wife of DeWitt Boswell. Aunt Ola was a school teacher in LaGrange, Tennessee.
She was also a photographer. DeWitt was a store owner in Macon, Tennessee. Aunt Ola was credited
with encouraging Louise Allen Dancy to come to LaGrange for a higher quality education.
BACK TO COGBILL ALBUM INDEX

BACK TO PHOTO INDEX

BACK TO HOME PAGE
POSTED DECEMBER 2, 2000