GRANDMAMA & ALLEN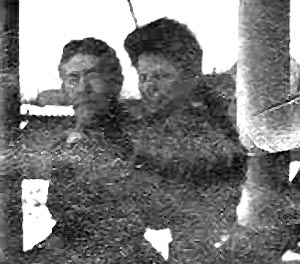 From the Album of Allen and Alice Cogbill
Grandmama (Mary Priscilla Gilliam) Hughes (1845-1914).
Daughter of Allen Pettus and Elizabeth E. Colburn Gilliam,
Wife of Thomas Newton Hughes. Mother of Lena Hughes Dancy.

Louise Allen Dancy Cogbill, granddaughter of Mary Priscilla Gilliam Hughes.
Note: This photo was very dark and could not be recovered. It is used here
because it is the only photo we have of our great-grandmother.
BACK TO COGBILL ALBUM INDEX

BACK TO PHOTO INDEX

BACK TO HOME PAGE
POSTED DECEMBER 2, 2000