SANDY DANCY
(1837-1862)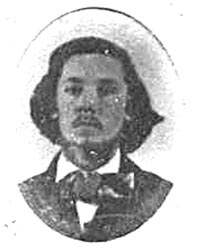 From the Album of Allen and Alice Cogbill
Sandy Dancy - Alexander (and possibly Isaac Alexander) Dancy, son of Isaac and Mary Lamb Dancy.
Brother of John Henry Dancy. Born at Dancyville, Tennessee, 1837. Died at the Battle of Perryville, KY., 1862.
He is listed as Sandy, I.A. and S.A. Dancy in various records of Company A,
9th Tennessee Infantry (formed at Dancyville, mustered in at Jackson,TN.)
This photo, a tintype, about 1-1/4 inches square, was mounted in a tiny oval brass frame, attached to a card.
Hand written across the bottom of the card, "Uncle Sandy Dancy." The photo had darkened so
much the image was barely distingusable. Using a photo editor has at least made the image viewable.
There was a 2nd Sandy Dancy - Alexander Dancy, son of John Henry and Louisa Jane Kerr Dancy,
brother of Isaac Bradley Dancy. Born at Dancyville, TN., about 1865 died in Texas about 1926.
He was referred to often, as Sandy, in his mother's diary.
It is believed the picture is the first Sandy, son of Isaac and Mary Dancy
BACK TO COGBILL ALBUM INDEX

BACK TO PHOTO INDEX

BACK TO HOME PAGE
POSTED DECEMBER 2, 2000