LOUIS BURCHETTE McFARLAND
(1843-1926)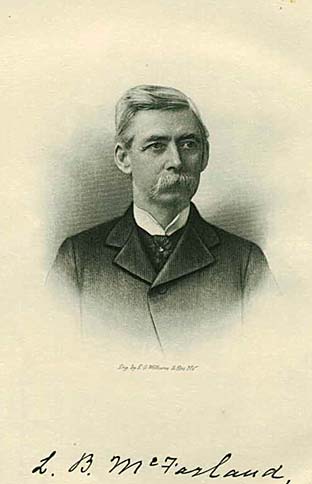 Photo from Memoirs and Addresses by L.B. McFarland
Courtesy of Carolene English
Louis Burchette McFarland was the son of Dr. William Felix and Martha Douglass McFarland of
Dancyville, Tennessee. He was the grandson of Burchette and Martha McGee Douglass. Louis entered the
service of the Confederacy in Company A, 9th Tennessee Infantry, organized at Dancyville and mustered
in at Jackson, Tennessee. After the War he attended law school., practiced in Memphis and became a prominent
Judge, land owner and citizen. See Louis's Civil War Questionnaire on this site.
Note: The background design for this page is taken from the inside cover liners of the book Memoirs and Addresses by
L.B. McFarland
RETURN TO McFARLAND PHOTO INDEX
RETURN TO PHOTO INDEX

RETURN TO HOME PAGE
POSTED DECEMBER 9, 2000