MRS. ELLEN SAUNDERS McFARLAND
The Little Rebel
(1848-1900)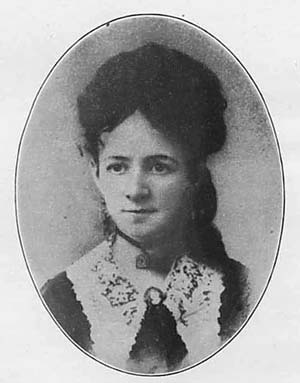 Photo from Memoirs and Addresses by L.B. McFarland
Courtesy of Carolene English
Ellen Virginia Saunders McFarland was the daughter of Col. James E. and Mary Watkins Saunders
of Courtland, Alabama. She married Judge Louis Burchette McFarland on April 4, 1872. She was
Louis's first wife, and they were married 28 years, until her death on June 30, 1900. Ellen kept
a journal through out the Civil War years and excerpts were published in Memoirs and Addresses.
RETURN TO McFARLAND PHOTO INDEX
RETURN TO PHOTO INDEX

RETURN TO HOME PAGE
POSTED DECEMBER 9, 2000