TURLEY 2.7 1/4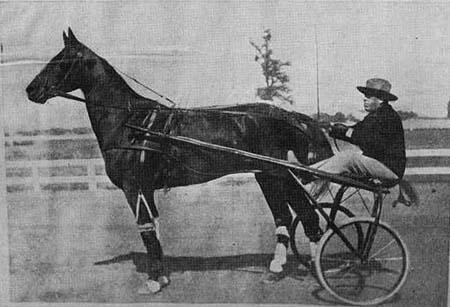 Photo from Memoirs and Addresses by L.B. McFarland
Courtesy of Carolene English
Turley 2.7 1/4 ~ Winner of Walnut Hall Cup ~ Pop Geers Up
Owned by L.B. McFarland Farms
First 2.10 Trotter in Tennessee
This photo was published in Horseman ~ October 1905

Site editors addition on "Pop" Geers:
Edward Franklin "Pop" Geers (d. 1924)
A granite obelisk and a small park just off West 7th Street in Columbia, TN, on the side of Mt. Parnassus, the highest point in Maury County, were dedicated in 1926 to honor the memory of Tennessee's most famous harness racer, Edward "Pop" Geers.
The "Grand Old Man of the Turf," Pop Geers, with his extraordinary racer, Napoleon Direct, an ex-plow horse, was the first to drive a horse under a two-minute mile. In 1916, the pair set the record of 1:59 ¾ minutes.
RETURN TO McFARLAND PHOTO INDEX
RETURN TO PHOTO INDEX

RETURN TO HOME PAGE
POSTED DECEMBER 9, 2000