ALLEN PETTUS GILLIAM HOME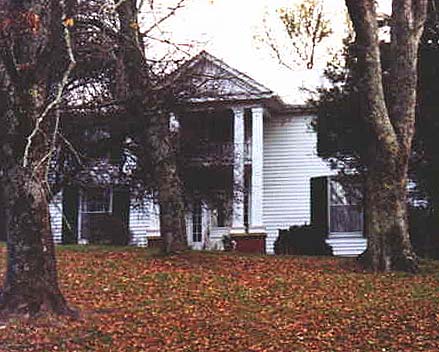 Photo by Mary Kay Dancy Smith - 2000
THIS DANCYVILLE HOME WAS BUILT BY ALLEN PETTUS GILLIAM (1810-1885).
FOR 80 YEARS ONLY THE GILLIAMS AND THEIR DESCENDENTS (JONES) OCCUPIED
THIS HOME. PHOTO USED BY PERMISSION OF THE CURRENT OWNER.
---
THE FOLLOWING ADDITIONAL INFORMATION PROVIDED BY TYRRELL JONES BOND
THE GILLIAM HOME HAS SPECIAL MEANING FOR ME. GLENNA JONES WAS MY GREAT AUNT ON MY DAD'S SIDE
AND HER HUSBAND WILLIAM THOMAS JONES WAS MY GREAT UNCLE ON MY MOTHER'S SIDE. IN ADDITION, MY
PARENTS (FRED TYRRELL & MARY SEARS ROGERS JONES) WERE MARRIED IN THE HOME ON NOVEMBER 11, 1934.
I DO HAVE THREE PIECES OF FURNITURE THAT WERE IN THE HOUSE.
1. A SMALL DESK WHICH WAS OWNED BY ALLEN PETTUS & E. OLIVIA GILLIAM AND IS DATED , 1859. THIS
IS WRITTEN IN A DRAWER BOTTOM, WITH THE LINE OF OWNERS FROM THEN:
ALLENE & F.R. JONES - 1884
GLENNA JONES JONES & WILLIAM THOMAS JONES - 1929
DOROTHY JONES RUTHFORD - 1965
TYRRELL JONES BOND - 1995

2. A LARGE ROCKING CHAIR , WITH WOVEN BOTTOM (WHICH I HAD TO REPLACE.) IT BELONGED TO MY
GRANDFATHER (MILLARD HUNTER JONES) BUT I DON'T KNOW IF IT BELONGED TO A.P. GILLIAM.

3. AN OLD WALNUT TABLE THAT I GOT OUT OF THE SMOKE HOUSE. IT WAS HAND MADE AND
PROBABLY OF THE ORGINAL FURNISHINGS. WHEN I GOT IT IN THE LATE 1950'S IT HAD CORROGATED NAILS
HOLDING IT TOGETHER AND LOTS OF SALT AND GREASE. A MAN REFINISHED IT, TAKING AN EIGHTH OF AN
INCH OFF THE TOP AND PUTTING PEGS IN TO HIDE THE NAIL HOLES. HE ALSO HAD TO ADD A WALNUT PLANK
FOR ONE OF THE DROP LEAFS BECAUSE SOMEONE HAD CUT IT OFF TO MAKE IT FIT THE SMOKEHOUSE. IT HAS
BEEN MY DINING ROOM TABLE ALL MY ADULT LIFE. WHEN I MOVED TO MEMPHIS IN 1994, MY UNCLE EDWARD
ADDED A WALNUT BORDER ALL THE WAY AROUND TO MAKE IT EASIER TO FIT CHAIRS UNDER THE TABLE.
THE TABLE HAS THE MOST BEAUTIFUL PATINA.
TYRRELL IS THE GREAT-GREAT-GRANDAUGHTER OF
ALLEN PETTUS & ELIZABETH OLIVIA PATTON GILLIAM
---

ALLEN PETTUS GILLIAM MARRIED (1) ELIZABETH E. COLBURN (2) ELIZABETH OLIVIA PATTON NEAL.
ALLEN P. & ELIZABETH COLBURN GILLIAM'S SIXTH DAUGHTER WAS MARY PRISCILLA.
MARY PRISCILLA MARRIED THOMAS NEWTON HUGHES AND THEY ARE THE
GREAT-GREAT-GRANDPARENTS OF THE PUBLISHERS OF THESE PAGES.