HENRY E. KERR
(1773-1857)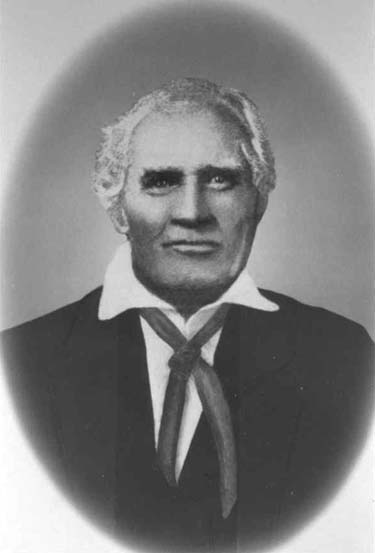 From the Album of ROMIE CARR
(Henry was the 3-great-granduncle of Romie)
HENRY E. KERR WAS BORN IN THE CAMDEN DISTRICT, CRAVEN CO., SOUTH CAROLINA,
JULY 24, 1773 AND DIED NOVEMBER 30, 1857, IN GILES COUNTY, TENNESSEE.
Henry was the father of Francis Bradley Kerr, grandfather of Louisa Jane Kerr Dancy and the 3-great-grandfather
of the publishers of this page.
Publisher's Note: On occaision, a close relative will provide a treasured picture of an ancestor. It is almost unheard of for a 4th cousin, once removed, to come forward with a photo artifact such as the picture of Henry Kerr. We greatly appreciate Romie Carr sharing the photo as well as other Kerr/Carr/Karr documents. Also note: Romie's ancestors changed the spelling of Kerr, to Carr. This is not uncommon, often the spelling was changed in documents and records. In this case we are all the same clan.
GO HERE FOR THE ORIGINAL PHOTO FROM WHICH THE ABOVE PHOTO WAS RESTORED.
BACK TO INDIVIDUAL AND FAMILY PROFILES
Posted March 26, 2001