LOWERY'S LANDING
On The Hatchie River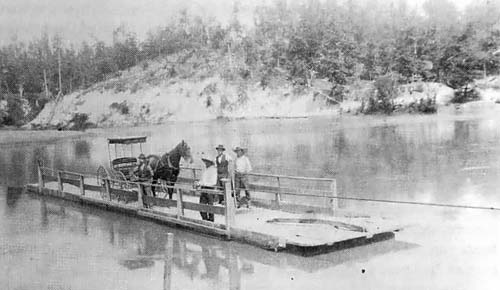 From the Historical Photo Journal of Harrell Clement
THE FERRY AT LOWERY'S LANDING, THE ONLY MEANS OF CROSSING THE HATCHIE RIVER.
BEFORE THE RAILROAD, SUPPLIES WERE TRANSPORTED BY WAY OF
THE HATCHIE RIVER. LOWERY'S LANDING WAS ONE POINT WHERE SUPPLIES
WERE SHIPPED AND THEN TRANSPORTED BY OX CART TO THEIR FINAL DESTINATION.
TRADITION HAS IT, THE FIRST SUPPLIES, FOR THE FIRST MERCANTILE STORE IN
DANCYVILLE, PASSED THROUGH LOWERY'S LANDING. SHIPPED FROM ST. LOUIS, DOWN
THE MISSISSIPPI, TO THE HATCHIE AND LOWERY'S LANDING. FROM THE
LANDING THE SUPPLIES WERE TRANSPORTED BY OX CART TO DANCYVILLE.