JAMES MONROE 'ROE' CRAWFORD
(1855-1941)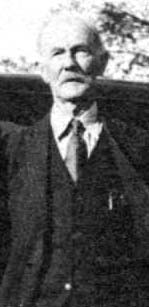 James Monroe 'Roe' Crawford
Patriarch of the Dancyville Crawfords
circa 1936
JAMES MONROE CRAWFORD, BORN APRIL 4, 1855, CAME TO DANCYVILLE FROM ALAMANCE COUNTY, NORTH CAROLINA. JAMES AT ABOUT THE AGE OF SEVENTEEN, WAS THE ONLY MEMBER OF HIS FAMILY TO MOVE TO TENNESSEE. JAMES MONROE WAS MARRIED THREE TIMES. HIS FIRST WIFE WAS MAGGIE LECILE BOBO, BORN 1855 AND DIED 1886. THERE WERE TWO CHILDREN FROM THIS MARRIAGE: WILLIS AND EARL CRAWFORD. HIS SECOND MARRIAGE WAS TO SOPHIA THOMPSON, BORN 1858, DIED 1888. THERE WERE NO CHILDREN FROM THIS UNION. IN 1890 HE MARRIED ELLA RUSSELL AND FROM THIS MARRIAGE THERE WERE THREE CHILDREN: DAVID CRAIG, MARIE AND MYRTLE.
JAMES MONROE 'ROE' CRAWFORD DIED FEBRUARY 10, 1941, AND IS BURIED IN THE DANCYVILLE PRESBYTERIAN CEMETERY.
THIS INFORMATION IS FROM A PROFILE BY DAVID CRAIG CRAWFORD III. PERMISSION TO USE GRANTED BY DAVID CRAIG CRAWFORD II.