CCM James Hughes Dancy
WORLD WAR II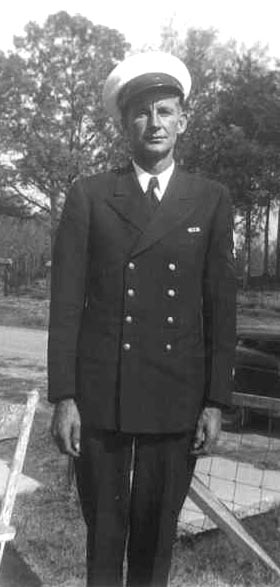 1910 - 1968
James was a Chief, in the 27th Naval Construction Battalion, United States Navy Seabees.
He served from 1942 to 1945. Two of his major duty stations were:
Tulagi, British Solomon Islands, from 5 Jan 1943 to 19 May 1943. The Seabees constructed a
patrol torpedo boat operations base on Tulagi. This is the base from which John F. Kennedy
commanded his fabled PT 109. Kennedy took command of PT 109, at Tulagi, on April 23, 1943.
James would have been on Tulagi for about 30 days during the period Kennedy operated there.
Emirau, St.Marthias Island, from 25 March 1944 to 28 Sep 1944. The Seabees built Emirau
Airfield on the island, used by both the Navy and Marine Corps. During the period Charles Lindbergh
was helping with the aviation war effort, May 1944, he visited the airport on Emirau. James would have
been on Emirau when Lindbergh visited there.
It is not known if James Dancy was ever aware of the historical significance of Kennedy's PT
109 or knowledge of the Lindbergh visit.

James Hughes Dancy was the father of the publishers of these pages.