FRANCIS BRADLEY and ANN REID NEAL KERR
PROFILE
______________________________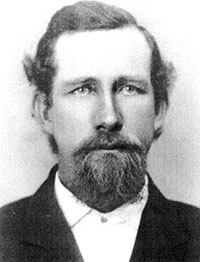 Francis Bradley Kerr was the son of Henry E. Kerr (born in Camden District of Cravens County, South Carolina) and Mary Price Kerr (born in Mecklenburg County, North Carolina.)
Francis was born February 27, 1801 in the York District of South Carolina. Francis moved to Giles County, Tennessee with his parents. He married Ann Reid Neal (born January 12, 1806 in Sumner County Tennessee) in 1826. In 1829 they moved to Fayette County Tennessee.
Francis and Ann's home was in the 4th civil district, north of Somerville and very near the Fayette and Haywood County lines. They were listed in the 1850 census, house # 391, and indicating they had 12 children living at home.
Francis Bradley owned a farm, purchased from Thomas Sheppards. The farm was located at Shepps/Sheppards, which was northwest of Dancyville, in Haywood County. Shepps was named for Thomas Sheppard because he maintained a railroad water tower at the location. The post office would later call the town Sheppards for mailing purposes.

Thomas Bradley Kerr would often travel between his northern Fayette County home and his farm at Shepps/Sheppards. In her 1869 diary, his daughter Louisa Jane Kerr Dancy, recorded his many stops at her house at Dancyville, during his trips between the two locations.
Francis Bradley was a life long member of the Dancyville United Methodist Church. The Nashville Christian Advocate, genealogical abstracts from reported deaths (January 9, 1886), states he "helped to organize the Methodist Church at Dancyville before the village existed."
An interesting story related by his grandson, Isaac Bradley Dancy, To Eldon Roark in the column 'Strolling with Roark,' described a couple of traits Francis had when he worshiped at the Dancyville United Methodist Church. Quoting Isaac Bradley, " Grandfather Kerr, was a very religious man. Yes we had all grown up in the church. When he got a little older he figured out a trick-method for kneeling in prayer but at the same time remain seated in his short-legged chair. Grandfather Kerr would also lead prayer, but would keep his eyes open. Some of the brothers and sisters thought that was highly improper and once they jumped him about it. "Doesn't the Bible say watch as well as pray?" he asked. Yes, he was a character - Grandfather Kerr."
Francis Bradley and Ann Reid Neil Kerr had 12 children:
| | |
| --- | --- |
| Mary | b.1827 |
| James Henry | b.1828 |
| George Sidney | b. 1830 |
| Martha L. | b. 1831 (about) |
| Susan Carolyn | b. 1833 |
| Louisa Jane | b. 1834 |
| Frances | b. 1836 |
| William Fletcher | b. 1837 |
| Nancy A. | b. 1840 |
| Emmerette E.. | b. 1841 |
| Arthur Davis | b. 1844 |
| Bradley P. | b. 1847 |
Francis Bradley died December 1, 1885 and Ann Reid Neil Kerr died August 30, 1873. Both, along with several of their children, are buried in the Dancyville United Methodist Church Cemetery.
_________________________________