DAVID CRAIG (DC) CRAWFORD, JR.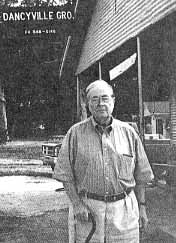 D.C. CRAWFORD and his wife of 38 years, Martha, still make the Dancyville Community their home. D.C. was born and raised in Dancyville along with two brothers and one sister. His father died at the age of 36 from a ruptured appendix, and his mother, Amy, lived until the age 101. He attended Dancyville Elementary and graduated from Haywood High School in Brownsville.
After graduation he enlisted in the Army and was stationed in Germany. Crawford, in the 378th Infantry, was wounded in frontline fighting and had a six-month hospital stay. After World War II, he was sent to Camp Shelby near Hattisburg, Mississippi, and was discharged in November 1945. While in the military he received the Purple Heart and the Combat Infantry Badge.
After returning home, D.C. farmed several hundred acres. He harvested mostly cotton but also had corn, beans and milo. He also operated a small general store in Dancyville. In 1955, he bought into the ginning business with Sam Rhea in Stanton. He and Martha married in 1961, and he managed the Dancyville gin in partnership with Sam Rhea and Clyde Caldwell while his brother watched his store business. He also maintained a large herd of cattle.
His general store closed, but several years later he took over the business of another store, also in Dancyville. In August 1993, Crawford suffered a stroke, which kept him hospitalized about two months. At that time, the gin closed primarily because of outdated machinery and the cost to upgrade. When D.C. returned home from the hospital he resumed his store business immediately. He has suffered another stroke but has recovered. He's at the store everyday ready for business.
The Crawfords attend the historic Dancyville United Methodist Church, and he serves as Sunday School superintendant. They have three children: Craig, Bill and Chris.
In 1954 Mr. Crawford was elected by members of Chickasaw Electric Cooperative to represent their service area. He still holds that position.
Note: This profile is a reprint of a Board Member Profile, published by the Chickasaw Electric Cooperative.
D.C. Crawford is the grandson of James Monroe Crawford, a Haywood County pioneer, who came to Dancyville about 1872, at the age of 17.
BACK TO INDIVIDUAL AND FAMILY PROFILES