THOMAS ALLEN HUGHES
TOP OF HIS CLASS

Thomas Allen Hughes, son of Thomas Newton and Mary Priscilla Gilliam Hughes, was born 1870 in Dancyville, Tennessee. Thomas Allen was an attorney and in the Graduating class of 1892, Vanderbilt University, Nashville, Tennessee.
He was honored by the award of the Founder's Medal, for the University's School of Law. The Founder's Medal is awarded for the top student in the class. It is further described below.

Year School Recipient Hometown
1892 Law Thomas Allen Hughes Dancyville, Tenn.

Founder's Medal

Cornelius Vanderbilt's gifts to the University included endowment of this award, given since 1877 for first honors in each graduating class. The medal is gold.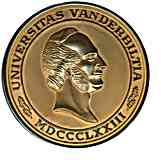 Obverse. The profile of Cornelious Vanderbilt is a replica of the one by sculptor Salathiel Ellis on the gold medal that was presented to the Commodore by action of Congress in 1864 to express the nation's gratitude for his gift of his new steamship Vanderbilt to the government during the Civil War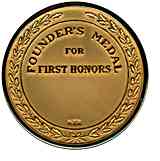 Reverse. The words "Founders Medal for First Honors" appear on the reverse of the medal with space below for the recipient's name and School or College to be engraved.

THE PRECEDING HONORS RECORD IS FROM THE VANDERBILT UNIVERSITY WEB SITE.
BACK TO INDIVIDUAL AND FAMILY PROFILES