A Walk Through the Past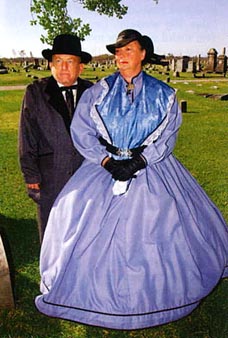 KENNETH SMITH, HERITAGE CHAIRMAN FOR THE JOHN B. INGRAM CAMP OF THE SONS OF CONFEDERATE VETERANS, AND WIFE MARY KAY IN PERIOD CLOTHING AT RIVERSIDE CEMETERY.
Kenneth Smith never met D. H. "Ham" King, Thomas Gaston, or Captain Hartswell Farrar,
but he has tales to tell about each man and his place in Jackson history. In fact, Smith has stories
about dozens of people who helped shape the community.

Smith is the heritage chairman for the John B. Ingram Camp of the Sons of Confederate Veterans.
Each May,the camp sponsors the Riverside Cemetery Walk in which re-enactors share vignettes
of Jackson's past with visitors.

For example, Ham King was a longtime mayor who ran the city's business out of his saloon in
the early days of Jackson. Thomas Gaston was Jackson's first police chief and lived in one of the
town's hotels. Captain Hartwell Farrar was a transplanted New Yorker known as the first
Jackson citizen to enjoy the luxuries of electricity and indoor plumbing.

"We go back and do our research so that we can produce a biography on many of these people,
"Smith says, Riverside Cemetery is filled with history. It is the resting place for 140 unknown
Confederate soldiers, more than 40 known Confederate soldiers and many town founders, including
Bishop Isaac Lane, founder of Lane College. During the Cemetery Walk, tour guides
accompany visitors from one grave to another, introducing storytelling charters dressed in
period uniforms and costumes.

For example, Smith himself wears civilian attire, including a suit, vest and black top hat. He can
represent anyone from a lawyer or doctor to a preacher or riverboat gambler. Smith's wife, Mary Kay, dresses in hoopskirt complete with seven layers of clothing.
Last May would have been the eighth cemetery walk. but organizers cancelled the event in the aftermath of the tornado that ripped through
town earlier that month. Smith, however, says the popular Riverside Cemetery Walk should resume in 2004 "if all goes well."


Reprinted from Jackson County
THE JACKSON TENNESSEE MAGAZINE
2004 Edition
Jackson, Tennessee
Used by permission, The Jackson Magazine retains full rights.