SANDY ALEXANDER DANCY


MEMORIAL STONE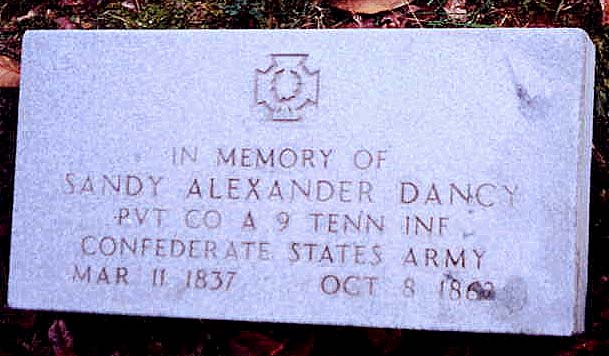 Photo by MARY KAY DANCY SMITH

Sandy Alexander Dancy was the youngest child of Isaac and Mary Lamb Dancy.
Born in Dancyville, he was killed in the Civil War Battle of Perryville, Kentucky.
He is buried in an unmarked, mass grave at the Perryville Battle Field.
The stone, provided by the Veterans Administration, is a memorial to his service.

ON DECEMBER 22, 2001, GENE GRIFFIN, KENNY SMITH AND MARY KAY DANCY SMITH, SET THIS STONE IN THE
DANCYVILLE UNITED METHODIST CHURCH CEMETERY.
SANDY ALEXANDER DANCY IS THE BROTHER OF THE GREAT-GRANDFATHER,
JOHN HENRY DANCY, AND GREAT UNCLE OF THE PUBLISHERS OF THESE PAGES.

From The Memphis Appeal newspaper:
October 24, 1862
Counties in the Ninth Tennessee Regiment.

The following is a list of those killed and wounded in the 9th regiment of Tennessee volunteers, commanded by
Lieutenant Colonel J. W. Buford, near Perryville, Kentucky, on the 8th of October 1862.
Company A--- Lieutenant A. J. Bucy, Commanding
Killed: Private S. A. Dancy

Research by MARK KAY DANCY SMITH