THE DANCYVILLE C.M.E. CHURCH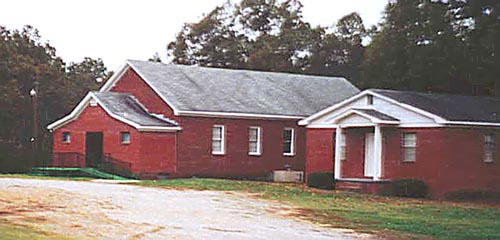 Photo by MARY KAY DANCY SMITH

HISTORY OF THE DANCYVILLE C. M. E. CHURCH

It is not known who the first pastor of this church was, but from family records the establishment of the church in Dancyville dates back to the 1800's, and was located south of here, about ½ mile in the field. Our records show that in the year 1905, this land was sold to the Trustees of Dancyville Colored M. E. Church; Dave Archibald, Green Douglass and John Shaw, by F. R. Jones and wife A. O. Jones. On March 17, 1925, the present site was purchased from the same Mr. & Mrs. Jones for One Hundred Fifty ($150.00) dollars by Trustees; Jack Ragland, Jesse Hobson, George Douglass, J. W. Thomas, and Cherry Jones. It was a frame building with very few facilities, no electricity, no water, and the pews and other furnishings were made by its members, of rough but freshly cut oak. One wood heater, heated the building in winter, and card board cut from a box was our air during the summer. For night services, lamps (kerosene) were used to give us light.
With the members' sincerity of purpose, the warmth of their motives, the co-operation and strength of their support and the help of God, the frame structure was changed to a beautiful brick structure in 1957. Rev. James Boyland was our pastor and Bro. Robert Ballard was chairman of the Steward Board. Many facilities were left off, however, with no running water or other modern facilities, and the same home-made pews.
In 1975, running water and restrooms were added, along with a cold-water fountain. Rev. Dan C. Adams was pastor and Bro. C. D. Archibald was Chairman of the Steward Board. In 1980, Dr. J. Bobby Cole was sent to us as pastor, he saw the need for improvement, and immediately went to work to improve our present building. We purchased new pews, and pulpit furniture, he also saw the need for additional space, and under his leadership a cafeteria and educational building was started which is in our plans to complete. Gravel was spread to improve our parking area.
In 1984, Rev. L. H. Oliver came to us and is still serving as pastor; he is working hard to keep Dancyville on the move. Bro. Hazel Boyd served on an improvement committee as chairman to improve our campus in which a beautiful job was done along with Bro. Jerry Shepard, chairman of Trustee board and other trustees and members to keep our campus looking beautiful. In 1985, central air and heat was installed.

---
Some of the former pastors who wrought well at Dancyville are:

DATING BACK TO 1935
Page 1
Rev. W. C. Quarles
Rev. E. W. Selby
Rev. R. E. King
| | |
| --- | --- |
| Rev. E. E. Dunnigan | Rev. R. P. Hudson |
| Rev. F. T. Sanders | Rev. C. A. Trotter |
| Rev. D. C. Adams | Rev. J. Boyland |
| Rev. O. L. Upshaw | Rev. V. L. Smith |
| Dr. J. B. Cole | Rev. H. Newbern |
| Rev. L. H. Oliver | Rev. C. A. Lucas |
| Rev. A. E. Springfield | Rev. R. W. Flemming |
Rev. T. M. Smith
Rev. John Bethel
Rev. H. C. Walker
Rev. Oscar Bailey
Rev. O. B. Boothe
Rev. Tyrone Davis
Rev. W. F. Lowe
Rev. R. T. Fouse
Rev. Walter Hunt Jr.
Present
Rev. Cleavon Meabon III
Present Pastor
---
Former Presiding Elders who served are:

| | |
| --- | --- |
| Rev. J. B. Boyd | Rev. J. M. Hill |
| Rev. W. M. Womack | Rev. B. F. Harris |
| Rev. T. M. Davis | Rev. R. W. Spearman |
| Rev. O. W. Gibson | Rev. A. L. Alcorn |
| Rev. S. W. Broome | Rev. E. W. Crisp |
| Rev. C. M. Hawkins | Rev. E. L. Strong |
| Rev. J. L. Griffin | Rev. A. L. Rowsey |
THE FOLLOWING WAS TRANSCRIBED FROM:
"Historical Souvenir Program, Thirty-Second Annual Session ~ Jackson, Memphis Annual Conference,
Colored Methodist Episcopal Church ~ Nov. 27 - Dec. 1, 1946"
Dancyville C.M.E. was founded in 1896 by the Rev. J. B. Collier. It is located near the town of Dancyville, TN. It is a frame church with a seating capacity of 300, has one Study Room. New improvements have been made, new pews added, new furniture and electric lights. The Charter Members of the church are Brother David Archbell Sr., Charlie Hunter, Edmon Mabon, Anderson Shelton, Lizzie Shelton.
Our church has the following organizations: Stewards Boards One and Two, Stewardess Boards One and Two, Senior and Junior Choirs, Usher Boards, Sunday School, Epworth League, Missionary Society. All of the organizations are assigned to the general routine of the program of the church and are doing same.
The present official staff is composed of the following: Brothers Richard Ragland, R. V. Douglass, Robert Ballard, S. Hopson, Alven Jones. Sisters Marie Jones, Irene Jones, Viola Hopson, Emma Bolles, Mattie M. Ragland, Mattie Holmes.
The present membership of the church is 125. The pastor is Rev. E. W. Shelby who is married and has three children. Rev. Shelby has pastured the present congregation for eight years.
---
WE TRULY APPRECIATE THE DANCYVILLE C.M.E. CHURCH HISTORY PROVIDED By MRS. ALVIS M. BOND.
Note: Initial contact for securing this history was with MRS. LINDA BOND
A WORD ABOUT SPELLING: IT IS NOT UNCOMMON TO FIND DIFFERENT SPELLING, FOR GIVEN AND SURNAMES IN DOCUMENTS, ESPECIALLY OLD RECORDS. RESEARCHERS WILL NEED TO TAKE THIS INTO ACCOUNT WHEN COMPARING AND ATTEMPTING TO RECONCILE RECORDS. ed.
THIS DOCUMENT TRANSCRIBED AND FORMATTED by MARY KAY DANCY SMITH.

GO HERE FOR THE INDEX, OF THE GRAVES, IN THE DANCYVILLE C.M.E. CHURCH CEMETERY
GO HERE FOR INDEX TO MRS. MITTIE; MR. FED AND ELLA JONES ~ STONES PHOTOS

GO HERE FOR FAMILY BURIAL SITES, WITH POSSIBLE CONNECTIONS, TO THE DANCYVILLE C.M.E. CHURCH