ONE CONTRIBUTION ...... TO THE GREATEST GENERATION
JAMES HUGHES DANCY
(1910-1968)


Chief

THIS PROFILE BASED PRIMARILY ON OFFICIAL MILITARY RECORDS
AND THE HISTORY OF THE 27TH SEABEES BATTALION (27TH NAVAL CONSTRUCTION BATTALION),
"DANGER, Fighting Men at Work."
As told by Willard G. Triest, Commander (CEC), USNR, to Edward J. Doherty.
James Hughes Dancy was born September 8, 1910, in Dancyville, Haywood County, Tennessee. The son of Isaac Bradley and Ethelene Maggie 'Lena' Hughes Dancy. With the exception of his military service and brief periods in Paris, Henry County, Tennessee, he lived his entire life in Dancyville, on the farm where he was born.
A skilled bull dozer operator, James did dirt work on many farms and worked on roads and other projects, in many parts of Tennessee. His last job before enlistment in the Navy was employment with the Tennessee Valley Authority as a bull dozer operator.
At the time of James enlistment, the military was in great need of men with heavy equipment operating and other building and construction skills. So much, they were offering high enlistment ranks, and accepting older men for these jobs. Because the emphasis was on experience rather than physical conditioning, the average age for operators being accepted was 37 years, and the navy was accepting construction men between the ages of 18 and 50, for this service. It was later known that men as old as 60 years had enlisted in the Seabees. James was enlisted with the naval rank of Mechanic First Class, equivalent to a five strip Technical Sergeant in the Army. You would have to be an ex-military person to realize how unusual it was to be recruiting enlisted men at this high rank, at this time.
His induction record lists the following characteristics ~ age: 31 years - 10 months; height: 6 feet; weight: 148 lbs. eyes: blue; hair: brown.
James was accepted for enlistment at the Naval Reserve Station, Jackson, Tennessee. He was enlisted on July 17, 1942, at the Naval Reserve Station, Nashville, Tennessee.
He was immediately ordered home and placed on inactive duty. ( This would indicate that the Navy was not ready to begin the training of these men and placed them on inactive duty until the training center was ready-Ed.)
Recalled to active duty 2 months later, on August 25, 1942, he was transferred from the US Naval Reserve Station, Nashville to the Construction Battalion, US Naval Construction Training Center, NOB, Norfolk, Virginia.
On September 24, 1942, apparently with training* completed, James was transferred to the 27th Naval Construction Battalion for duty. (*Training would have been only the teaching of 'military bearing' since these men were all experienced in their trades.-ed.)
Within three weeks of James' assignment, the 27th NC Battalion was ordered overseas. He was given a 38 day overseas leave, 30 days leave, 8 days travel time. His leave began on October 22, 1942 and ended November 30, 1942. ( He had a previous 5 day leave from October 15, 1942 through October 19, 1942.)
The next entry in James' record states, " December 4, 1942 - Crossed the equator on board the USS Mount Vernon bound south for parts unknown, initiated a shell back."

SEE PHOTO AND HISTORY OF USS MOUNT VERNON
___________________________
James arrived at Tulagi, British Solomon Islands on January 5, 1942
The Seabees built the Patrol Torpedo Boat base on Tulagi Island. The PT Boat was a wooden hulled craft, 80 feet long and 20 feet wide. The small size and wood construction accounted for it's speed of 40 knots. The crew consisted of two officers and eight to ten enlisted men. It carried two to four torpedoes and guns on deck. It has been described as, "Pound for pound, the most ferocious warship of all time."

Tulagi Island was the base from which John F. Kennedy commanded his PT 109 Boat. JFK arrived there, and assumed command of PT 109 on April 23, 1943. On August 1-2, 1943, Kennedy was ordered out on patrol to intercept Japanese warships. During the night, while cruising very slowly and quietly, PT 109 was cut in half by the Japanese destroyer, Amagiri, thought to be running at about 40 knots. The crew aboard the Amagiri was not aware they had hit 109. The heroics and survival of Kennedy and his crew are documented in Naval records and the published book, " PT 109."
James would have been on Tulagi Island for about 30 days at the same time Kennedy was there. Whether they ever made contact is not known. Neither is it known, at this time, if James ever knew of the Kennedy/Tulagi connection and the part he and the Seabees played in building the Patrol Boat base from which Kennedy would operate and become a naval hero.
Left Tulagi, British Solomon Islands on May 19, 1943
____________________________
When finished on Tulagi Island, the 27th was assigned to develop camp sites at Mission Point, on Florida Island, at Gavuhoho and Siota, and on the Island of Bungana.
____________________________
Arrived at Emirau, St. Marthias Island, Bismarck Archipelago on March 25, 1944
Emirau has been described as having beautiful, crushed, white coral for roads and airfield runways and nice coral reefs surrounding the island, which made it a place for searching for shells and cat eyes and made for some nice swimming. But you had to watch for the beautifully colored coral snakes.
Occupied by US Marine Corp., March 20, 1944, by the 4th Marines (James arrived 5 days after the Marines occupied the island.)
The Seabees built an airfield at Emirau from which both the Navy and Marine Corp operated. Charles Lindbergh, while helping with the aviation war effort, visited Emirau Airfield in May 1944. James would have been on Emirau at the time of Lindbergh's visit.
PHOTO OF LINDBERGH AT EMIRAU AIRPORT
Left Emirau September 28, 1944
Emirau was the 27th Seabee's last stop in the Pacific.
______________________
PHOTO OF SEABEES MEMORIAL ~ ARLINGTON CEMETERY
BATTALION COMMANDERS ~ 27TH SEABEES BATTALION
1st through last:
Lt. Commander H. G. Fortin
Lt. Commander Allan R. Carmichael
Commander Louis G. Puls
Commander Willard G. Triest
______________________
SOME OF JAMES H. DANCY'S PROMOTION AND FINAL TRANSFER DATES:
Rating changes: July 1, 1944 from Mechinist's Mate First Class (MM 1c) to
Mechinist's Mate Electrician First Class (MME1c)
August 1, 1944 MME1c to Chief Carpenters Mate (AA)
____
Transferred March 22, 1945, from 27th US Naval Construction Battalion to US Naval Hospital, Shoemaker California.
Transferred Apr, 1945, from USNH, Shoemaker, California to US Naval Conve. Hospital, Santa Cruz, California, for further treatment.
On June 26, 1945, given Honorable Discharge from the United States Navy, at US Naval Conve. Hospital, Santa Cruz, California. Issued Honorable Discharge Button (the coveted Ruptured Duck.) Rank at time of Discharge; Chief Carpenter's Mate.
Total Service - 2 years, 11 months, 10 days (20 days short of 3 years)
Total overseas service - 1 year, 4 months
_______________________
DESCENDANTS OF JAMES HUGHES DANCY:
JAMES H. DANCY MARRIED: 1) Beulah B. 'Bibe' Blackwood
Children:
Peggy Jean Dancy Paschall
married: Hassel B. 'Tim' Paschall
children: David Eugene Paschall, Steven Kim Paschall, Bibe Lou Paschall
James Karl Dancy
married: Roselee Kathryn Haugh
children: Janice Kimberly Dancy
JAMES H. DANCY MARRIED: 2) Mary Frances Rhea
Children:
Mary Katherine Dancy Smith
married: Kenneth R. 'Kenny' Smith
children: Kenneth Rhea Smith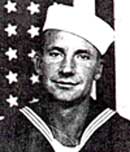 Mechinist's Mate First Class

PHOTO ~ JAMES DANCY IN DUTY UNIFORM

PLEASE NOTE ~ MORE MATERIAL WILL BE ADDED TO THIS PROFILE, INCLUDING; PICTURES AND
MORE 27TH SEABEES HISTORY.