MRS. MITTIE JONES
1860-1964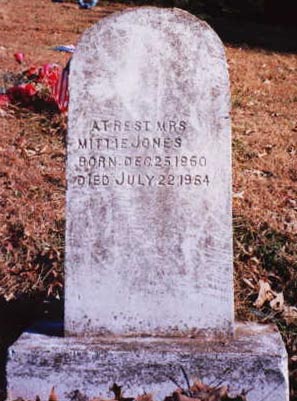 Photo by Mary Kay Dancy Smith
Buried ~ DANCYVILLE CME CHURCH CEMETERY
MRS. MITTIE JONES ~ AGE 103 years - 6 months - 27 days
Mrs. Mittie's son was Mr. Fed Jones ~ 10/8/1878-1/12/1962
---
The Dancys Remember Miss Mittie
By Aunt Mil ~ Mildred Ethelene Dancy Duck
I remember Miss Mittie being around the house often, helping mother (Lena Dancy) with the washing and ironing. Miss Mittie must have been a warm and caring person, because I have very fond memories of her. Miss Mittie liked snuff, and on one occasion when I was about eight, asked me to go to the store and buy her some. On the return trip, Brother Jimmy (James H. Dancy) dared me to put some inside my lower lip, like Miss Mittie did. I tried it and was deathly ill by the time we reached home. I went in the back yard and threw up for fifteen minutes and then went into the garden and ate raw vegetables to cover up the odor so mother would not know what I had done.
One time when Miss Mitty returned from a trip to Memphis, she gave me a ring she had bought for me. While it probably only cost pennies or a nickle, to me it meant as much as any diamond.
When I was visiting Tennessee in the 50's or 60's, I drove out to visit Miss Mittie but was told by a neighbor that Miss Mitty had become ill and had gone to stay with her daughter.

Aunt Mil ~ as told to her daughter: Betty Carolyn Duck Byrd ~ November 2001
---
By Mary Kay Dancy Smith
When Daddy (James H. Dancy) was growing up there was a Negro lady that worked for his mother (Lena Dancy). I have been told that she chewed his meat first and then fed it to him. I can believe this since she was just like his own parent. She was called "Aunt" Mitty. Mitty Jones was her name but I honestly don't know her Christian name.
After I was born she would always send her son (Fed Jones) to our house with a large basket of spring flowers for my birthday. She couldn't afford a gift from a store but those flowers meant more than any store bought gift could ever mean to me. I often pass by where their house was, on the Stanton Road, and want to go see if any of the flowers still bloom there in the spring.

November ~ 2001
---
Posted November 6, 2001