THE MOORES
IT WOULD BE DIFFICULT TO WRITE ABOUT DANCYVILLE WITHOUT INCLUDING
THE MOORES, EARLY PIONEERS, WITH CONTINUED INVOLVEMENT IN THE COMMUNITY.
JOSEPH B. MOORE I
Joseph B. Moore I, born June 8, 1837, in Dancyville, was the son of John B. Moore and Martha E. Jones Moore. He was born on the family farm where he lived until his death March 22, 1916. As his father died when he was young, he had the responsibility of his family and took care of his mother until her death.
November 25, 1880, he married Martha Lee Coppedge, daughter of Isaac Wesley Coppedge and Sara Frances Stanley Coppedge. She was born February 9, 1862, and died January 6, 1930. They are buried in the Dancyville Methodist Church Cemetery.
Goodspeed's History of Tennessee 1887, states "Mr. Moore has met with fine success farming and is now in comfortable circumstances, the result of his energy and good management, and is a useful citizen. Mr. and Mrs. Moore are members of the Methodist Episcopal Church, South, and in politics he always supports the Democratic ticket."
There are several interesting stories told about Martha Lee Moore. She was a very small but independent lady and was called "Miss Dink." After her husband died and the children all moved away from home, she lived alone in the old home place. Every few days she would fire a pistol into the air to let people know she had a weapon and knew how to use it. One night she heard someone after her chickens and fired a shot at the chicken house. The next morning the hired hand come limping to the house. She asked, "What's wrong with your leg?" He answered, " You shot me, Miss Dink."
Children born to Joseph B. and Martha Lee were:
William J., b. January 17, 1882, died August 27,1931. Soon after his marriage he moved to Texas
where he lived the remainder of his life.
Joseph B. II, b. July 9, 1884, died November 24, 1970 (see his history)
Leon C., b. July 22, 1886, died August 28, 1939 (Leon was a World War I Veteran)
Nellie G., b. December 30, 1888, died July 28, 1900, of typhoid fever.
Charles E., b. March 6, 1891, died September 19, 1966. He was killed in an automobile accident
within sight of his birthplace.
Katie Lillian (Dixie), b. March 1, 1893, died April 26, 1926. She was the first woman to register
at West Tennessee Normal, now Memphis State University.
James Rawlins, b. December 3, 1895, died July 14, 1972.
Martha M., b. August 9, 1898.
Frank Estes, b. January 16, 1904, died March 13, 1953. Most of his adult life was spent in Birmingham,
Alabama.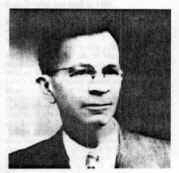 JOSEPH B. MOORE II
Joseph B. Moore II, son of Joseph B. Moore I and Martha Lee Coppedge Moore, was born July 9, 1884, and died November 24, 1970. He grew up in Dancyville and after completing school there, worked for J.S. Rawlins in his general merchandise store for several years. Later he attended Draughon's Business School in Memphis. After his graduation in 1907, he returned to Dancyville and entered the mercantile business and farming. He was a member of Haywood County Court from 1930 until his death in 1970 and was a Tennessee State Auditor from 1937 to 1957. He was a Master Mason, a member of the Old Stanton lodge, 640 F&AM and was awarded his 50 year pin while a member there.
On November 29, 1914, he married Martha Miller, daughter of S.A. Miller. She was born in Shelby County, January 25, 1886, and died August 25, 1953. They were both members of the Dancyville United Methodist Church and are buried in the church cemetery. They were active in the religious community and civic affairs in the area.
Joseph B. II and Martha Miller Moore had six children:
GO HERE FOR THE DESCENDENTS OF JOSEPH B. II AND MARTHA MILLER MOORE

GO HERE FOR THE DESCENDENTS OF FRANK ESTES AND BEL HAYS MOORE

DOROTHY MOORE
Dorothy Moore, born January 5, 1917, graduated from Haywood High School, as did her other siblings. She received her B.S. and M.A. degrees from Memphis State. She taught school for 44 years. From 1938 to 1943 she taught at Bradford Elementary School. From 1943 until her retirement in 1982, she was a teacher and guidance counselor at Haywood High School. She is a member of the Dancyville United Methodist Church and was secretary-treasurer of the original committee (1969) that established perpetual care funding for the church cemetery. Miss Moore is a life long resident of Dancyville and is familiar with much of the area history.
Miss Moore has been very helpful with providing a lot of the material that appears on the Dancyville Web Pages.
Miss Moore has been very active in The Methodist Church affairs through the years. She spear-headed the move to have the Church and Cemetery placed on the National Register of Historic Places. Her latest project is to provide CSA markers for the 13 Civil War veterans buried in the church cemetery. She has found 3 Civil War veterans, lately, that cemetery records did not indicate. One, I might add, was our great-grandfather. She wants all the veterans to be identified.
On June 25th, 2000, Miss Dorothy represented the Church at the James K. Polk-James C. Jones Historical Marker dedication. The marker, presented by the Haywood County Historical Society, is located on the highway side of the Dancyville United Methodist Church Cemetery. Visit the Dedication Page.
She and her fellow church members have been recognized in the Congressional Record of The U.S. House of Representatives.
THE FOLLOWING TRIBUTE WAS READ INTO THE CONGRESSIONAL RECORD


HON. JOHN S. TANNER
OF TENNESSEE
IN THE HOUSE OF REPRESENTATIVES
Monday, September 16, 1991
Mr. TANNER. Mr. Speaker, I rise today to recognize the dedicated work of members of the Dancyville United Methodist Church. Led by Dorothy Moore, their hard work and diligent effort was rewarded recently, when their church and adjacent cemetery were listed on the National Record of Historic Places.
The listing secured the church's place in Dancyville history, rightfully protecting it from future building projects that might adversely effect the building's historic character and longtime role in the community. The church has a history in Dancyville and Haywood County dating back 150 years. The Dancyville United Methodist Church is easily worthy of this coveted recognition.
The work of church members in achieving this goal is to be commended. I've been going to Dancyville all my life and the community is filled with wonderful people. It remains a community wrapped in strong moral fiber and sound American values.
I want to join my friends in Dancyville and Haywood County in expressing my congratulations to Ms. Moore, the church, and it's members on this historic achievement. Clearly it is a treasure worth preserving in Dancyville, Tennessee.
I include the following article:
Dancyville United Methodist Church
Added To Prestigious National Register

Haywood County's contribution to the list of history-making places swelled by two March 13 when the Dancyville United Methodist Church and it's adjacent cemetery, on the southern edge of Haywood County were added to the National Register of Historic Places.
The church and cemetery, dating back to to the mid-19th century, were considered for nomination and examined by the 13-member State Review Board in January. Though Steve Rogers of the Tennessee Historical Commission said the church made the list in March, notification to the State came only last week.
The listing in the National Register of Historic Places of the Department of Interior provides recognition of places worthy of preservation but does not encumber property with Federal Regulations.
The Dancyville church's inclusion reinforces it's historic importance and assures protective review of federal projects that might adversely effect the character of the property. By virtue of its listing, the property could qualify for certain federal tax credits for rehabilitation.
One of the Dancyville Church members that has been instrumental in moving the church's nomination through the recognition process, DOROTHY MOORE, said that the community is overjoyed by the acceptance of the church and cemetery to the National Register. Members of the community plan to purchase markers for the property as soon as possible.

We wish to thank MISS DOROTHY MOORE for providing the profile information
on the Moore Family and the Congressional Record entry.
To Submit Early Family Histories
BACK TO INDIVIDUAL AND FAMILY PROFILES
Posted June 1999


Updated August 30, 2000

[ Home ] [ History ] [ Churches ] [ Strolling ] [ Joshua Hughes ] [ Thomas Hughes ] [ 1869 Diary ] [ JH Dancy ] [ John Dancy ] [Post O.]
[ Isaac Dancy ] [ Bradley ] [ Pictures ] [ Early Names ] [ Links ] [ Letters ] [ Moores ] [ Credits ] [ Family History ] [ Revisit ] [ Stones ]